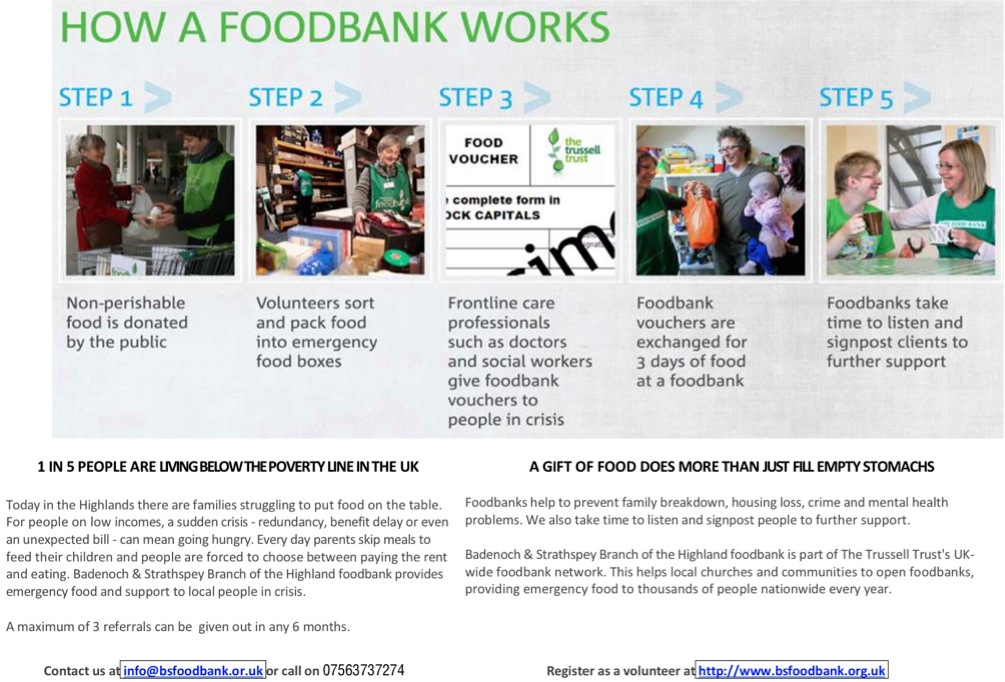 The Foodbank is run by the community for the community: non-perishable food is donated by local people - schools, businesses, churches and individuals. Volunteers help run the foodbank by packing, sorting and distributing the food. Every client is referred to the foodbank by a frontline care professional such as a doctor or social worker. The Foodbank is an emergency food service: to prevent dependency on foodbanks our clients are entitled to up to three consecutive foodbank vouchers. To help clients break out of poverty, we signpost clients to organisations able to resolve the underlying problem.
Depending on their situation people referred to the Foodbank can receive their food parcel in a number of ways and they are supported in this by their referrer.
- come to the foodbank drop-in open on Thursdays from 11.30 - 13.30 at the St Andrews Church Aviemore where the voucher is exchanged for a food parcel
- If they have supplies the referrer will provide them with a parcel directly
- The referrer can arrange with the foodbank for the client to collect the parcel from one of the satellite stores throughout the area
- The referrer can arrange for the foodbank volunteers to deliver the food parcel
Each client receives for themselves and for their family (where appropriate) a three-day supply of food together with suggested nutritious recipes to help them make best use of the food. The intention is that this three-day period should provide the client a "breathing space" enabling them to find help to put their finances on a more stable basis.
Highland Foodbank is part of The Trussell Trustís UK-wide foodbank network. We are passionate about engaging and empowering the local community to support foodbank projects, providing emergency food to thousands of people nationwide every year.
The continuation of the work of Highland Foodbank is totally dependent upon the generosity of the public whether donating non- perishable food items or financially. We could not reach so many local people in crisis without the on-going support and encouragement from churches, individuals and local community groups.
We work with over 150 partner agencies (statutory & voluntary) such as health visitors, social workers, CAB and CAP. All of whom are best placed to identify people in crisis and issue them with a foodbank voucher.
Foodbank clients bring their voucher to a foodbank centre where it is exchanged for a three day emergency food package, complete with suggested nutritious recipes to help them make best use of the food. At a foodbank centre, clients can meet with our volunteers, relax and enjoy a cup of tea. Where it is difficult for the client to reach one of our foodbank centres we can often arrange delivery of food to a clientís home. In more rural areas it is often easiest for our frontline care professionals like health visitors to keep a stock of our Emergency Food Boxes.
The intention of foodbank is that we not only hand out food aid but get alongside the person in crisis, offering our support and listening ear. Some wish to share their worries with us, others may just want to chat casually about the weather. For some, it is the first time they have felt listened to. Our hope is that we can signpost our clients to other organisations who may be able to help them further and ultimately find a long-term solution.